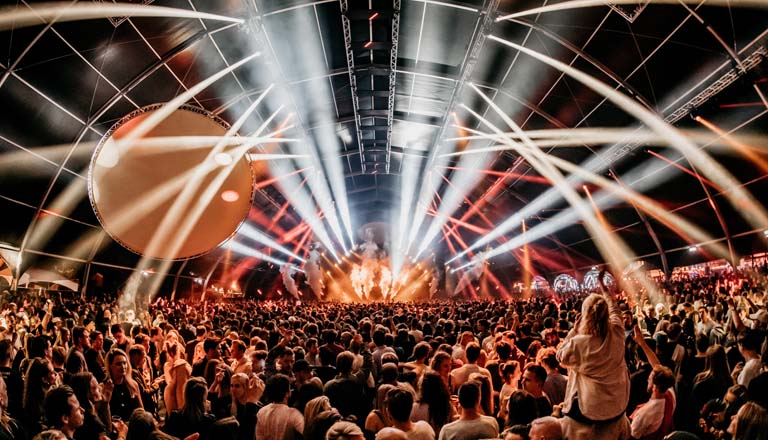 FAQ
Ticketing
Are tickets expected to sell out?

Tickets will likely sell out, so get yours early! Limited quantities are available at each pricing tier.
What payment methods can be used to purchase tickets?

Visa, Mastercard, Amex, Apple Pay, Google Pay, Ideal, Sofort, Giropay.
What happens if I stop making my ticket installment payments?

Should you fail to make a ticket installment payment, you will be notified via email and then we'll try another time to take your payment. If you fail to make two consecutive installment payments, you will lose your ticket and any payments that have been made to the total amount of the ticket value
What is the maximum number of tickets that I can purchase in one transaction?

Ten (10) tickets is the maximum per customer in one transaction.

What is included in my festival ticket?

General admission tickets include three-day access to the main festival area. VIP tickets include access to the main area, a dedicated VIP area with a private bar and fast-track entry into the festival site. Note: Drinks and private tables are not included in the ticket price. Bill and venues subject to change.
Can I upgrade my General Advance ticket to VIP?

No, unfortunately ticket upgrades are not available. Please consider this when making your booking.
How do I get in touch with Festicket support?

You can contact Festicket support here: https://support.festicket.com/hc/en-us/requests/new. Please ensure you reply to the automated response in order to escalate your issue with them. 
Where is my ticket(s)?

Once you have purchased your ticket(s) on the Festicket site, you will be sent a confirmation email to confirm your booking. If you can not see your order confirmation in your regular inbox, try your junk or updates folders. E-tickets will be sent out 2 weeks prior to the event.
How can I change my booking email?

Please contact Festicket customer services who can assist you: https://support.festicket.com/.
Can I cancel or sell my ticket?

All tickets are non-refundable and non-transferable. We are unable to offer any refunds for tickets no longer needed. 
I have a ticket query that has not been resolved from the above FAQs, who should I contact?
Please contact Festicket customer services who can assist you: https://support.festicket.com/
Festival
What age do I have to be to attend?

Secret Project Portugal is an 18+ event and you will need ID to prove your age to guarantee entry.
What are the festival dates?

Friday 17th June, Saturday 18th June and Sunday 19th June 2022.
Where is the festival?

The festival will take place on Praia da Rocha beach in Portimão, The Algarve, Portugal. Praia da Rocha is one of the most popular beaches in The Algarve and is about an hour's drive away from Faro International Airport.
What do I need to bring to guarantee entry?

Please bring your ticket, the card you purchased the ticket with and valid photo identification.
What constitutes a valid photo ID?

Photographic forms of identification such as a passport or driving license are acceptable.
What time does the event start & end each day?

Please see full venue and accreditation hours here.
What time is last entry to the festival?

Last entry for the main site is 1am.

Will set times get posted in advance?

Yes, set times can be viewed here as well as in the Insomniac app.
Can I see a festival map ahead of time?

Yes, route and festival maps can be viewed here.
What is the camera policy?

No professional cameras are allowed into the festival site.
What is the COVID policy?

Health and safety protocols in place at the show will vary depending on what is required by the local governments at that time. Under current local laws, negative tests & proof of vaccination are NOT required for entry.
Can I bring food and drink into the festival?

No, outside food and beverages will be not allowed into the festival site; however, you may bring an empty hydration pack and fill it up at one of the many water stations available at the festival. There will be a wide range of food and drink available to purchase inside the festival.
Will there be water stations available?

Yes, free water refill stations will be available. 
Will there be lockers?

There will not be lockers, please be prepared to dance with your things.
Will the festival be on the sand?

Yes, most festival areas will be on the sand. 
Is there same-day re-entry?

Re-entry is not permitted, please plan for a full day of dancing on the beach!
Where will I get the cashless wristband?

You will receive a cashless wristband at the festival accreditation point when you arrive. For more information about cashless credit and ticket activation please look here. 
How can I request a refund for my unused cashless credit?

If you'd like to request a refund on your cashless credit, you can do so until Thursday, 23rd June at 12pm GMT here: https://festicket.eventgenius.co.uk/index:cashlessrefunds.html?event=secret-project-cashless-credit-vouchers-1

Press
How can I apply for a press accreditation?

Please send an email to press@insomniac.com and we will review your Press request.
Travel
Which airport should I fly to?

Faro International Airport. There are plenty of continental and international flights to the airport.
How to I get from Faro Airport to Portimão?

Taxis from the airport cost around €55 and there are also bus and coach options.
How do I get to the festival site?

There are a number of methods to getting to Praia da Rocha beach including by foot, taxi or public transport.
Accommodation
As the Algarve is such a sought after tourist destination, there is a huge selection of quality hotels, villas and apartments to choose from. We recommend staying in Portimão to be close to the festival.
Can you camp at Secret Project?

Secret Project is a non-camping festival.
How should I resolve an issue with my hotel?

Please speak with your hotel provider directly.
What time is check-in and check-out?

Check-in and check-out times for hotels, villas and apartments vary. Find your accommodation directly.
How can I safely store belongings?

Most hotels come with safety deposit boxes in the rooms, but some require a nominal fee for their use. Check with your accommodation when booking for information.
Local Information
How hot is it in Portimão?

The average temperature in July is 25 degrees in Portimao, with 10 hours of sunshine.
Where are the best areas to stay?

Portimao has plenty of accommodation options. You can find the perfect place for you with our travel partner Travel Republic.
Where is the festival site?

The festival site is located on Portimão's main beach, Praia da Rocha.
Are there cash machines on-site?

There are cash machines across Portimão where you can withdraw Euros.
What currency do I need to bring?

The official currency used is the Euro, which can be bought easily at the bank, the post office or at the airport.
Related